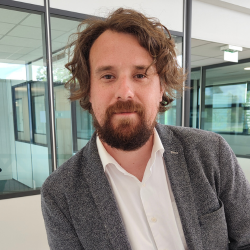 Nicolas CORREGE
Operation Manager

Nicolas CORREGE, Materials Engineer at ENSIACET in Toulouse. He joined Airbus Filton in 2012, to study the behavior of materials in 3D printing.
He joined SOGECLAIR aerospace in 2014, a company specialized in the development of high value-added solutions for a more sustainable mobility where he is in charge of the department dedicated to this new manufacturing technology.
In 2017, he participated in the creation of the joint venture PrintSky (joint venture between SOGECLAIR aerospace and AddUp) and today he is responsible for the operations of this company, which offers to the main actors of the aeronautics, space and defense industries a complete offer for the development of complex parts in 3D Printing (heat exchanger, structural parts, intelligent packaging).